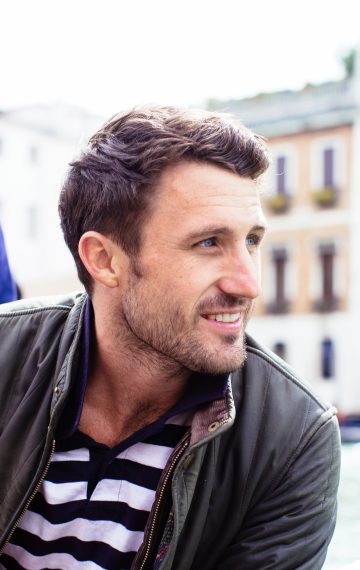 Comedy novelist, hellraiser, very tall person…
Joshua Humphreys is a writer of novels, essays, text messages, obituaries, hagiographies, self-assembling furniture instructions, sarcastic letters to Canadian politicians, and long and deceptive lists about what he writes. He is, in reality, not a very tall person.
Humphreys was miseducated at La Trobe University where he read Modern and Ancient History. He spent two years writing and performing in comedy plays and doing stand-up before deciding that he should be writing novels. So he has spent the last few years gallivanting around Europe and Southeast Asia. In 2015 he published his first novel, Waxed Exceeding Mighty. For six weeks he smuggled copies of it into London bookstores and exhorted his readers to steal them.
In 2016 he dressed up as a mermaid and published Exquisite Hours. That novel sold out six print-runs in seven weeks and allowed him to gallivant with especial vigour.
In April of that year, Humphreys travelled through the former Yugoslavia in search of a magical sword. He was arrested in Serbia for bedding a shepherdess and subjected to 48 hours of onion torture. He suffers still from an irrationally specific fear of Serbian onions. He introduced adult colouring books to the pencil-despising mountain people of north-eastern Albania and in Kosovo ate yoghurt with three heads of state and a goat who owned a tractor. He did not find the magical sword.
In June he went to Southeast Asia, where he defeated three heads of state (different ones to the ones he ate yoghurt with) in a tournament of Laotian arm-wrestling, winning thereby the coveted title of 'King of The White Elephants.' In Nepal he bought a Filet-O-Fish for a blind monk and was for his kindness inaccurately bitch-slapped.
In late July he travelled to the Holy Land, where he is said to have beheaded a camel with one blow of his sword. Not a magical sword. A regular one. Obviously. In Jordan he met Michael Jordan, and in Saudi Arabia picked snowberries with Frank Saudi Arabia. After working for a time as a Yemeni leopard salesman he was expelled from the region when it was discovered that he was attempting to sell jaguars disguised as leopards. He soon had to check himself into hummus rehab. He claims not to have lusted after a chickpea since.
In August he returned with his uncle, Mel Gibson, to The Orient. In Burma he and his uncle, Mel Gibson, learned from a jungle hermit how to make magical undershirts. They sell them now, he and his uncle—Mel Gibson—to extremely stitious Filipino politicians. When he and Mel Gibson, who is his uncle, tried their hands at the Vietnamese fish-based martial art of Ca Bong, Humphreys' uncle, Mel Gibson, was so displeased at being slapped in the belly button with a mackerel that they, Joshua and his uncle, Mel Gibson, parted ways.
Returning to Europe in September, Humphreys worked for a fortnight as barista to the pope. He was fired for making a lewd joke when His Eminence complained that his cappuccino had too much head. He was convicted in Holland of attempting to read a bedtime story to Mick Jagger and in Malta was tarred and feathered for disrespecting a locally revered squid.
For most of October his best friend was a treasure-hunting squirrel called Alexandrina. His hair is not his own. He wears a toupee made from goblins' beards that is said to ward off the bull crap of moon-hugging yoga instructors. Then it was his birthday. He was the chief inspiration for Dustin Hoffman's character in Rain Man. He taught Jack Nicholson how to falcon and has twice worked as Daniel Day Lewis' dialect coach. Draaaaaaaaaiiiinaaaage.
His efforts have been integral to the conservation of the Californian Stink Badger.
He is the 'other brother' to whom Beyoncé refers in Single Ladies.
He is very happily banned from France. And despite his own frequent assertions he is neither the rightful King of Thailand nor the long-lost Doge of Venice.
He is currently writing with his uncle, Mel Gibson, an opera based on his gallivanting.
He divides his year between Bangkok, Italy, and London.
He would divide it between his heirs, but he has none.
Grieve is his eleventy-first third novel.
Over 100 reader reviews of his novels, and their opening pages, can be read [ here ].